Since my last blog I've been out on six more circuits, mostly following the same routes as I'm comfortable using roads that I know very well here.
My accident in August 2006 has made me very conscious of the dangers of cycling, especially in Spain, when a white-van man knocked me off my bike and then drove off leaving me with a pelvis fractured in five places.
Seven weeks in traction in the local hospital in Palamós and then six months of reeducation — unforgettable.
To date, I have clocked up 550 km since the start of our April holiday on the Costa Brava. Saturday's trip of 92 km was the hardest so far as I rode up "Els Angels", between Madremanya and Quart (near Girona). I'd left Sant Antoni at sea level and arrived at the sanctuary of Els Angels at 480 m above sea level.
There's a five-km hill-climb of an average of 8% (between 4 and 12% gradients on the way up. I last did this trip on the bike in 2005 and had forgotten how difficult it can be. Anyway, I did it and am very pleased with myself.
The Garmin GPS can be viewed at http://connect.garmin.com/activity/479819563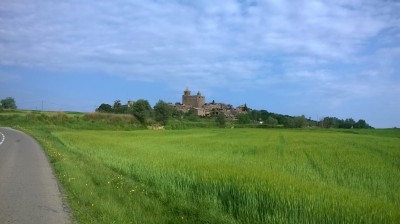 Photo: The village of Madremanya, just before the hill-climb to "Els Angels".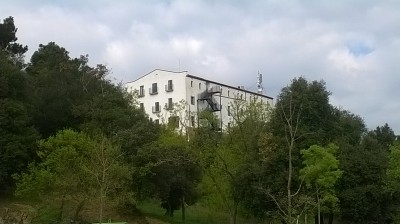 Photo: The sanctuary at "Els Angels" at 480 m above sea level.
After the descent from Els Angels to Quart, I picked up the Ruta del carillet (cycle track) all the way back to Platja d'Aró, then the coast road to home.