Today's good weather continued and I left around 8.30 for a cycle along the coast to Tossa de Mar.
The intention was to get to Tossa turn around and come back on the same route. However, at Tossa I decided to continue on to Llagostera and from there the long hill-climb to Romanya de la Selva and the great downhill slalom to Calonge and home.
The Garmin routes can be viewed at:
http://connect.garmin.com/activity/481033178
and
http://connect.garmin.com/activity/481036104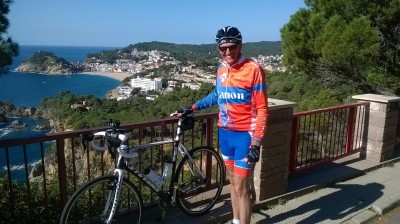 Photo: A kind German tourist took a photo of me with Tossa de Mar in the background.
Photo: The village of Romanya de la Selva.