ENGLISH VERSION BELOW.
————–
FRANCAIS:
Et voilà, j'ai finalement trouvé le courage d'entamer ce long et dur tour en vélo dans les régions de la Gaume et des Ardennes belges.
L'idée était de visiter autant de villages et villes que possible sur la liste de mon défi d'accomplir la visite de toutes les provinces belges. Il y a 91 endroits à visiter et actuellement j'en ai visité que six, donc il reste beaucoup de vélo à faire.
Je suis toujours sur ma liste de la province du Luxembourg (la plus grande et pourtant la moins habitée de toutes les provinces belges).
Je suis parti à 8h30 du matin, vendredi 12 septembre 2014, de chez moi à Mussy-La-Ville et j'ai pris la direction du nord.
Photo: Habay-la-Neuve.
L'itinéraire de ma randonnée peut être visualisée sur le site web de Garmin-Connect à:
http://connect.garmin.com/modern/activity/589130902
pour la première partie du voyage et à:
http://connect.garmin.com/modern/activity/589131173
pour la dernière étape du voyage.
Photo: Fauvillers.
J'ai dû couper le GPS à Bellefontaine; la batterie devenait plate et je risquais de perdre l'enregistrement.
Photo: Entre Fauvillers et Sainte-Ode. Between Fauvillers and Sainte-Ode.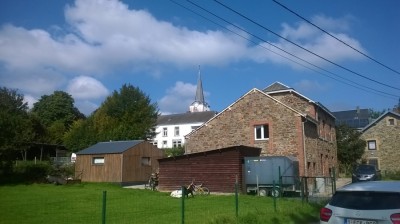 Photo: Lavacherie.
Photo: Lavacherie.
Quoi qu'il en soit, tout le tour a été fait pendant la journée et je suis parvenu à visiter les villages de Fauvillers (commune de Fauvillers), de Lavacherie (commune de Sainte-Ode), de Rochehaut (commune de Bouillon) et de Suxy (commune de Chiny).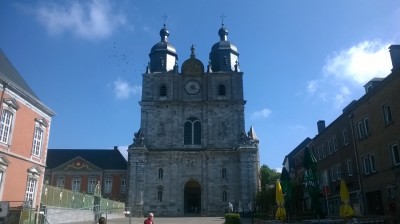 Photo: Basilique/Basilica Saint-Hubert.
Au départ, le temps faisait beau mais froid: autour de 6°C. Une partie de la matinée est devenue nuageuse et un vent de nord-est s'est relevé pour me frapper dans le visage. Dans l'après-midi le ciel est devenu bleu et la température était autour de 20°C; un temps parfait pour faire du vélo.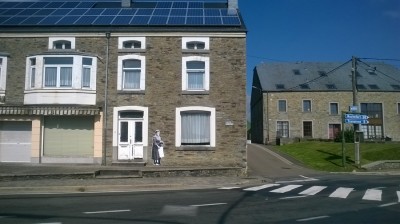 Photo: Maissin: encore un village belge durement touché en août 1914. Sur les maisons on a imprimé les images des gens de cette époque.
Photo: Maissin: one of many Belgian villages ravaged in August 1914 by the invading German army. The commune has printed images of the people of that period on the walls of the houses.
L'itinéraire m'a emmené à travers les parties les plus belles des régions de la Gaume et des Ardennes belges. Quand je ne traversais pas les denses forêts de pin, j'étais dans la campagne avec des vues impénétrables jusqu'à l'horizon.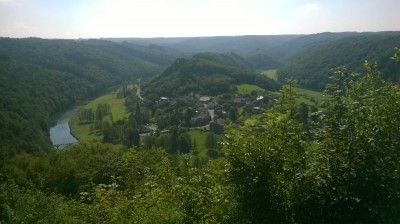 Photo: Rochehaut: vue sur le site de Frahant-sur-Semois.
Au total, j'ai fait 226 kilomètres à une vitesse moyenne de 23,77 km/h, 9 heures 26minutes dans la selle, plus de 6 mille calories brûlées, montée ascendante de 2985 mètres. L'altitude minimum était environs 203 mètres (au bord de la Semois) et le plus haut à 553 m (près de Lavacherie, Sainte-ode).
Photo: Le château-fort de Bouillon.
ENGLISH:
There it is, I finally plucked up the courage and set off on this long and arduous cycle ride in the Gaume and Ardennes regions of Belgium.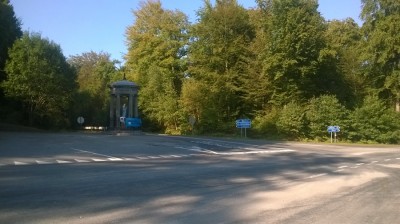 Photo: Le carrefour "Notre-Dame" entre Chiny et Suxy.
The "Notre-Dame" crossroads between Chiny and Suxy.
The idea was the take in as many villages and towns as possible on the list of my challenge to complete the tour of all of the Belgian provinces. There are 91 places to visit and at present I have visited six, so there is still a lot of cycling to do.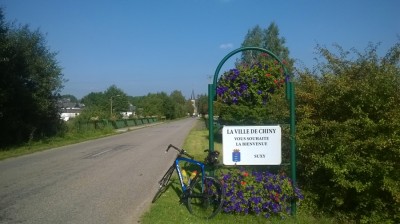 Photo: Suxy.
I am still making my tour of the Province of Luxembourg (the largest yet least inhabited of all Belgian provinces).
I set off at 8.30 a.m. on Friday 12 September 2014 from home in Mussy-la-Ville and headed due north. The list of my cycling tour can be found on the Garmin-connect website at:
http://connect.garmin.com/modern/activity/589130902
for the first part of the journey and at:
http://connect.garmin.com/modern/activity/589131173
for the last leg of the journey.
Photo: Bellefontaine.
I had to cut the GPS data in two at Bellefontaine, as the battery was getting low and I risked losing all of the recording.
Anyway, all the cycling was done in the day and I managed to cross off my list the villages of Fauvillers (Fauvillers district), Lavacherie (Sainte-Ode district), Rochehaut (Bouillon district) and Suxy (Chiny district).
On leaving home, the weather was fair although cold: around 6°C. A part of the morning became overcast and a north-easterly wind sprang up to hit me in the face. By the afternoon tthe sky was blue and the temperature around 20°C; perfect weather for cycling.
The route took me through the more beautiful parts of the Gaume and Ardennes regions of Belgium. When I wasn't cycling through dense pine forsts, I was in open countryside with views lasting forever to the horizon.
In total, I cycled 226 km at an average speed of 23,77 km/h, 9 hours 26 minutes in the saddle, over 6 thousand calories burnt, total uphill climb of 2985 metres. The minimum altitude was around 203 metres (on the river Semois) above sea level and the highest was 553 (near Lavacherie, Sainte-Ode).